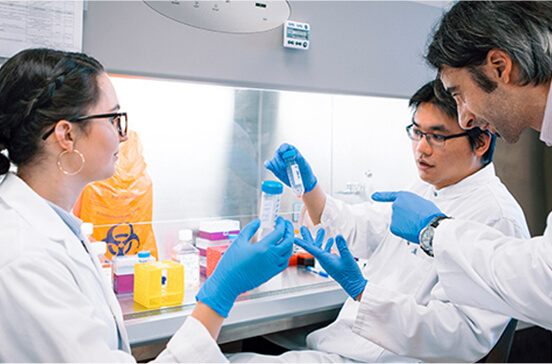 Life at STEMCELL is rewarding, fun, and inspiring. The work is complex and challenging, and gets tackled by people who expect to succeed! Audacious ideas are celebrated and many of them become projects. The experience you bring to the company is only your starting point. At STEMCELL you are encouraged to continue to grow and develop, including by being open to feedback on what you do and how you work. You will learn to speak confidently and transparently, scrutinize ideas, and invite critique. You will also laugh, play, and celebrate with your colleagues. At STEMCELL, your grit and your passion for quality and science will help you find fulfillment in profession, in purpose, and in friendships.
Culture and Purpose
STEMCELL is a company of Scientists Helping Scientists. We are at our best when we are building strong and trusting relationships with one another and with scientists. Our collective passion for science and its ability to make a difference in the world creates a culture of collaboration, curiosity, and discovery that pulses throughout the company. We each bring our unique expertise and experiences to the table to form a thriving community with a common purpose: to help scientists advance research.
Diversity
STEMCELL is committed to sustaining our diverse and inclusive workforce. With more than 40 languages spoken across the company and a greater than 50% female workforce at all levels, STEMCELL prides itself on being an equal opportunity employer representing all aspects of the communities we live and work in. STEMCELL France Gender-Equality Index In 2023, STEMCELL Technologies (France office) was above the average for French companies with 50-250 employees for gender parity with a Gender-Equality Index of 87/100. This French index aims to avoid inequalities between women and men in the work environment. It is calculated based on five indicators: The gender pay gap related to salaries The gender pay gap related to salary increases The gender pay gap related to promotions The percentage of female employees who receive a raise in the year they return from maternity leave The number of people from the underrepresented gender among the 10 highest paid jobs
Talented Peers
More than two-thirds of STEMCELL employees hold bachelor-level degrees, and greater than one-third also hold advanced degrees, such as a PhD, MSc, MBA, Masters in engineering, or law degree. We attract world class experts to our team, and our employees regularly speak to how motivating and inspiring it is to work with such highly skilled, experienced, and knowledgeable colleagues.
Company Sustainability & Growth
STEMCELL has seen year-on-year revenue growth throughout the company's history. This growth is expected to continue, and we anticipate hiring over 3,000 new employees by 2030. We celebrate our long-term employees annually and have handed out many 10- and 20-year awards. Indeed, several of the original employees are still with the company! As a steadily growing company, STEMCELL offers a stable working environment where employees can invest their time and talents into developing long-term careers.
Rewards & Benefits
Employees choose STEMCELL for the opportunity to work alongside like-minded people in a purpose-driven company, where the culture is driven by their contributions to the advancement of science. We offer market-competitive salaries combined with country-specific benefit packages that typically include market-leading vacation, extended health coverage, life insurance, disability coverage, travel insurance, and retirement plans.
Professional Development
We offer opportunities to participate in world-class training programs and stretch assignments, providing employees with the knowledge, skills, and experience required for their current roles and to support their future career development in both science and business. Various types of management and business courses are offered by internal experts and external partners. Our in-house Education team provides hands-on product training for Product and Scientific Support, Sales, Marketing, and other relevant groups. We also offer access to a suite of online training courses, opportunities to attend scientific and external conferences, and support for external training and career development when relevant.
Social Activities
Flexible Work
The STEMCELL Group of Companies believes and understands that flexibility in how we work is paramount to our continued success as a global company. To adjust to the changing needs of our employees and our business, we offer a flexible work model including on-site, hybrid and remote work options depending on the role and location. Please see each individual job posting for details on the work options available.
Work-Life Balance
We value and celebrate our employees' lives away from work, and are always pushing to enable a healthy work-life balance. For example, our facilities are centrally located along transit routes in world-class cities, we provide company-wide extra days off during the holidays, and we strive to support the diverse family and personal needs of our employees with various resources and benefit plans. From our children's holiday party and family-oriented events such as local fun runs, to team barbecues and company-wide announcements of weddings and births, we love getting to know and celebrating the staff of STEMCELL.
Global Presence
STEMCELL is headquartered in Vancouver, Canada, with more than three-quarters of employees working out of our various offices and distribution centers in the Lower Mainland, and the other one quarter reporting into one of our 10 other international offices or working remotely. STEMCELL supports direct sales in 22 countries and export channels to almost 100 countries.