Work at STEMCELL
Explore the exciting career paths at STEMCELL, which include competitive benefits and opportunities to achieve your full potential with growth-driven training and development.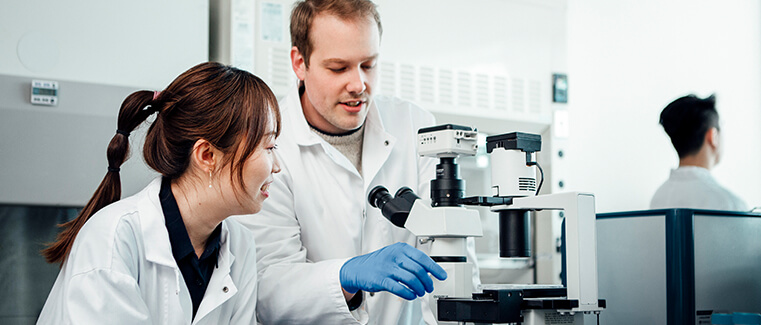 Master Data Associate
Location
Vancouver, British Columbia
Job ID R0003448
Date posted 09/02/2021
Job Description Summary
The Master Data Associate position reports to the Manager, Master Data Management and is responsible for maintaining master data in various areas of the business while adhering to standards and governance to ensure data is compliant with defined information, policies, and quality requirements as defined by the data owner in conjunction with the data management organization across all STEMCELL systems.
Job Description
Duties and Responsibilities
Support & implement data management methodologies that support STEMCELL's business initiatives.

Serve as a subject matter expert associated with content, processes & procedures associated with some or most of SAP modules (i.e. MM, SD, VM, FICO, PP, EWM, PLM etc.)

Execute data changes in SAP ERP and PLM as approved by the business. Perform mass updates as required.

Initiate and carry out data cleansing activities required.

Support and develop SAP Data Dictionary.

Writing standard operating procedures and training documentation.

Identify, report and resolve data quality issues through root cause analysis.

Respond to changes in business requirements and update master data accordingly.

Participate in projects and initiatives across multiple functional areas and regions in continuous improvement data management.

Provide first-level support ensuring high level quality service delivery. Work and collaborate with business units and process owners to resolve master data issues.

Ensure high level data quality, compliance and consistency of master data.

Support the business with required procedures, submit incidents and change requests when needed.Collaborate with IT/IS technical team on any configuration change affecting SAP ERPand PLM data modules to meet business requirements.

Understand non-SAP business systems and their interaction with SAP. Assist in the management of those systems as part of Business Systems management portfolio.

Support Data mapping process of matching fields from one database and/or module to another. Help facilitate data migration, data integration, and other data management tasks.

Ensure compliance with internal data policies and external regulatory requirements are aligned.
Qualifications
Minimum of 4 years of related experience in Master Data Management.

High level knowledge of data tables and fields in SAP S/4HANA.

Data cleansing implementation experience.

Experience defining data strategy, developing data requirements, designing data flow and prototyping, testing, training, defining support procedures and implementing practical business solutions under multiple deadlines.

Strong interpersonal, verbal/written communication, organization skills.

Able to efficiently prioritize work and timely inform stakeholders on the progress.

Analytically minded and methodical problem solver.

A good team player, flexible, shares knowledge, helps others, collaborates well within and outside the team.
#united
STEMCELL Technologies Inc. is a privately-owned biotechnology company based in Vancouver that helps power leading-edge life science research around the world. Scientists performing stem cell, immunology, cancer, regenerative medicine and cellular therapy research are among those who rely on our cell culture media, cell separation products, instruments, ancillary reagents and contract assay services. We create novel, useful, standardized products of unfailing quality and deliver them to more than 70 countries via our many regional offices plus distribution centres in Vancouver, Seattle, Grenoble and Singapore.  Driven by our love of science and our passion for quality, we see ourselves simply as "Scientists Helping Scientists" – standing by our customers to provide outstanding products, technical support and training.  We have over 1000 science-oriented employees globally, including 250 PhDs/MScs, with most others holding a BSc or engineering degree.  STEMCELL is proud to be the largest Biotechnology employer in Canada.
This is an opportunity to work with highly motivated colleagues in a science-oriented, creative and dynamic environment. We offer a competitive salary, excellent benefits and significant career development opportunities.
To apply please select the apply button. You will then be directed to a login screen asking you to set up an account. You must set up an account in order to apply. 
Create an account by selecting the create account button.  You will then be asked for your email and to create a password. Your Password must be eight characters long, contain at least one special character, one capital letter, and a number.Once you have created your password you will be asked to upload your resume. Uploading your resume will provide the ability to auto-populate your application with information from your resume. If you prefer to manually complete all of the fields in the application you can do this by clicking next. You can upload your cover letter as an attachment in the attachments screen. Thank you for your interest in STEMCELL!
​​
Apply