Careers for PhDs at STEMCELL
STEMCELL offers exciting and meaningful careers for graduates with advanced scientific training who wish to continue with a research-based career, or those who are looking to support science away from the lab bench, with opportunities for development in a diverse range of careers.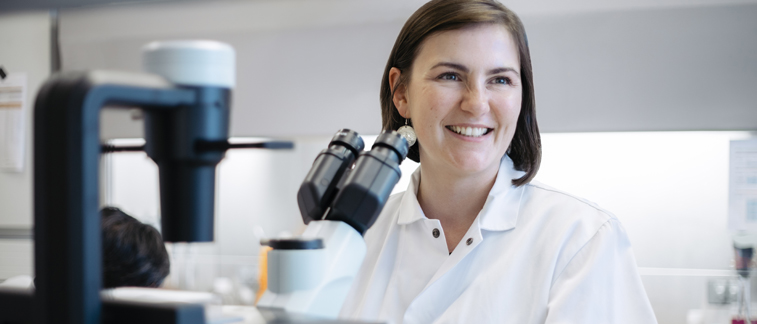 Associate Product Manager, Hematology
Location
Vancouver, British Columbia
Job ID R0002237
Date posted 10/31/2019
Job Description Summary
The Associate Product Manager, Hematology, combines their passion for science with an interest in business and the market to advance STEMCELL's mandate of Scientists Helping Scientists.

The diverse team of Product Managers at STEMCELL use their unique experience to represent the voice of the market and customer values, providing market-driven insights which drive product development and decisions at all stages of the product life cycle.

The Associate Product Manager, Hematology uses a data-driven approach to propose and implement effective product management strategies to support the development and continual support of our portfolio of products for researchers working with hematopoietic stem and progenitor cells.

This role involves a high degree of interaction and collaboration across departments within STEMCELL, and opportunities for collaboration with customers and external partners around the world.
Job Description
Product Portfolio Strategies
Manage and support the entire product life cycle for one or more product line(s).
Implementing product management strategy specific (but not limited) to academic, routine, biotech and pharma market segments.
Track the commercial performance of the assigned product line(s) and regularly present financial overviews to various stakeholder groups across different departments and corporate operations groups.
Create business cases to provide recommendations for the one-to-two year product development and portfolio maintenance plans through detailed analysis of the market(s), the competitive landscape and customer needs.
Provide revenue forecasts for proposed new products, as well as quarterly forecasts for existing products at various stages of the product life cycle, to guide new product development decisions, and inventory planning.
Work closely with Hematopoietic Team Scientists and members of the Operations Team to move new product(s) efficiently through product development pipeline to product launch. 
Work closely with Senior Scientists and Business Development Team to perform opportunity analysis and strategic planning for potential in-licensing of intellectual property.
Marketing and Sales Support
Work closely with the Scientific Marketing group to develop and execute marketing strategies and annual plans for assigned product line(s), including marketing material review, and marketing campaign and budget planning.
Enable the global Sales Team by identifying and supporting the implementation of effective sales strategies, and developing and delivering sales support tools, including product and market training.
Work with regional Sales Managers and Marketing Teams to adapt sales and marketing plans where appropriate for specific regions.
Identify and attend global conferences that align with team strategy and corporate priorities. 
Work with the Scientific Marketing Team and Conference Management Team to develop, execute and report on the success of conference-specific marketing initiatives.
Leadership Development
Serve as a project lead within the Strategic Marketing - Product Management team for one or more product management or data analysis projects.
Qualifications
PhD in hematopoietic stem cell biology or a related field.
Previous leadership, business or marketing experience is preferred. 
Strong ability in data manipulation and interpretation skills.
Exceptional communication skills (verbal, written, and presentation) skills.
Experience coordinating multiple projects with varying deadlines, and adjusting flexibly to rapidly changing priorities.
Self-driven individual with strong interpersonal skills when working with multiple stakeholders and/or team members.
Relevant product management experience and understanding of concepts regarding product positioning and value proposition is an asset.
#PhD
STEMCELL Technologies Inc. is a privately-owned biotechnology company based in Vancouver that helps power leading-edge life science research around the world. Scientists performing stem cell, immunology, cancer, regenerative medicine and cellular therapy research are among those who rely on our cell culture media, cell separation products, instruments, ancillary reagents and contract assay services. We create novel, useful, standardized products of unfailing quality and deliver them to more than 70 countries via our many regional offices plus distribution centres in Vancouver, Seattle, Grenoble and Singapore.  Driven by our love of science and our passion for quality, we see ourselves simply as "Scientists Helping Scientists" – standing by our customers to provide outstanding products, technical support and training.  We have over 1000 science-oriented employees globally, including 250 PhDs/MScs, with most others holding a BSc or engineering degree.  STEMCELL is proud to be the largest Biotechnology employer in Canada.
This is an opportunity to work with highly motivated colleagues in a science-oriented, creative and dynamic environment. We offer a competitive salary, excellent benefits and significant career development opportunities.
To apply please select the apply button. You will then be directed to a login screen asking you to set up an account. You must set up an account in order to apply. 
Create an account by selecting the create account button.  You will then be asked for your email and to create a password. Your Password must be eight characters long, contain at least one special character, one capital letter, and a number.Once you have created your password you will be asked to upload your resume. Uploading your resume will provide the ability to auto-populate your application with information from your resume. If you prefer to manually complete all of the fields in the application you can do this by clicking next. You can upload your cover letter as an attachment in the attachments screen. Thank you for your interest in STEMCELL!
​​
Apply