Work at STEMCELL
Explore the exciting career paths at STEMCELL, which include competitive benefits and opportunities to achieve your full potential with growth-driven training and development.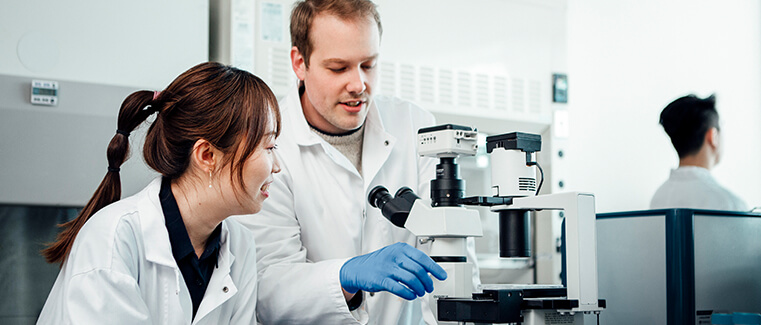 Senior Business Development Officer
Location
Vancouver, British Columbia
Job ID R0003604
Date posted 11/30/2021
Job Description Summary
An exciting and dynamic position within the Business Development and Licensing team at Canada's largest biotech company. The Senior Business Development Officer is responsible for negotiating and managing various agreements that are integral to maintaining and growing STEMCELL Technologies' portfolio of innovative products and services that support groundbreaking research in the life sciences.
Job Description
Duties and Responsibilities:
Research and evaluate new business opportunities and new technologies in stem cell research, primary cells, organoids and related fields.

Undertake partnering activities with rights holder(s) of technologies relevant to the business of STEMCELL.

Perform due diligence (including competitor analysis, freedom to operate, patent review, technology review, market analysis, etc).

Perform legal reviews (including of regulations around the procurement, distribution and use of biospecimens, including primary cells, cell lines and organoids, and privacy regulations such as HIPAA and GDPR).

Draft, negotiate and manage various agreements as necessary, including license, supply/service agreements, confidentiality, OEM, etc.

Recommend IP protection strategies, IP licensing strategies, as well as other legal and business strategies to Senior Management. 

Provide analyses, risk assessment, and interpretation of contractual terms, liabilities, obligations, and regulations. 

Identify and source raw materials and research reagents that will benefit STEMCELL's business.

Create and manage relationships with potential and active business partners.

Create and maintain working relationships with technology transfer offices in major academic institutes worldwide.

Manage executed agreements; ensure all contractual obligations are met in a timely manner.

Assist other departments with various external agreements.

Organize cross-department meetings to facilitate the external negotiation and co-ordinate internally to implement business decisions. 

Represent STEMCELL in external meetings and conferences, and represent Business Development in internal meetings. 

Supervise/mentor and collaborate with other team members as appropriate.
Qualifications:
Graduate degree in immunology, hematology, molecular biology, biochemistry or a related life science, with significant research experience.

Significant business development, legal, and/or licensing experience and/or training - law degree is preferred, MBA or CLP designation would be an asset.

Skills in drafting contracts that address legal, business, and technical requirements that effectively communicate the intent of the parties.

Experience in contract negotiation.

Experience in navigating legal and regulatory issues related to procurement, distribution and research/clinical use of human biospecimens is preferred

Experience in IP licensing, supply/service agreements, and OEM arrangements is preferred.

The capacity for critical and creative thinking with attention to detail.

The ability to develop and maintain collaborative relationships with internal and external stakeholders.

Highly developed project management skills.

Excellent communication skills, both oral and written.
This role requires vaccination against COVID-19 as per the current recommendations by local health authorities, including any COVID-19 boosters as recommended by local health authorities and where available.
#United
STEMCELL Technologies Inc. is a privately-owned biotechnology company based in Vancouver that helps power leading-edge life science research around the world. Scientists performing stem cell, immunology, cancer, regenerative medicine and cellular therapy research are among those who rely on our cell culture media, cell separation products, instruments, ancillary reagents and contract assay services. We create novel, useful, standardized products of unfailing quality and deliver them to more than 70 countries via our many regional offices plus distribution centres in Vancouver, Seattle, Grenoble and Singapore.  Driven by our love of science and our passion for quality, we see ourselves simply as "Scientists Helping Scientists" – standing by our customers to provide outstanding products, technical support and training.  We have over 1000 science-oriented employees globally, including 250 PhDs/MScs, with most others holding a BSc or engineering degree.  STEMCELL is proud to be the largest Biotechnology employer in Canada.
This is an opportunity to work with highly motivated colleagues in a science-oriented, creative and dynamic environment. We offer a competitive salary, excellent benefits and significant career development opportunities.
To apply please select the apply button. You will then be directed to a login screen asking you to set up an account. You must set up an account in order to apply. 
Create an account by selecting the create account button.  You will then be asked for your email and to create a password. Your Password must be eight characters long, contain at least one special character, one capital letter, and a number.Once you have created your password you will be asked to upload your resume. Uploading your resume will provide the ability to auto-populate your application with information from your resume. If you prefer to manually complete all of the fields in the application you can do this by clicking next. You can upload your cover letter as an attachment in the attachments screen. Thank you for your interest in STEMCELL!
​​
Apply