Work at STEMCELL
Explore the exciting career paths at STEMCELL, which include competitive benefits and opportunities to achieve your full potential with growth-driven training and development.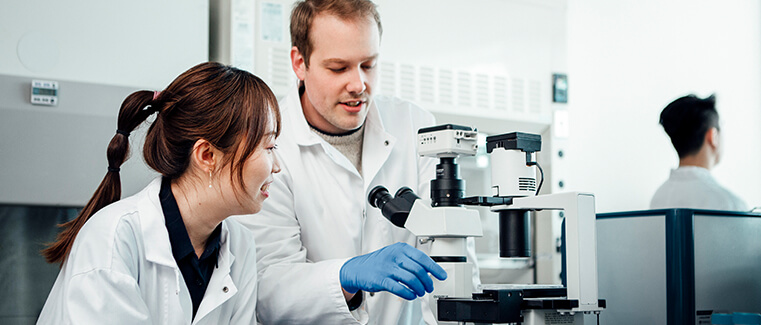 Research Technologist, Business Operations Products
Location
Vancouver, British Columbia
Job ID R0003196
Date posted 06/10/2021
Job Description Summary
The Research Technologist of Business Operations Products is responsible for the testing of new and existing products, product components, competing products and platform technologies for the various teams in the Business Operations (BOP) department.
This role involves performing and troubleshooting standard experiments with the appropriate controls, conducting data analysis, maintaining accurate written records of laboratory procedures, providing regular reporting of experimental results, contributing to the technical product documentation, literature reviews and basic experimental design with input from the supervisor. This role contributes to the general functioning of the BOP laboratory and conducts all lab work according to the company standards.
Job Description
Duties and Responsibilities
Perform experiments and data analysis, document the experimental observations and calculations, and summarize the findings.

Troubleshoot standard experiments, review and report on the results. 

Present results, conclusions and recommended follow-on experiments at regular data meetings.  

Author and submit reports on completed projects.

Perform laboratory procedures as requested (e.g. inventory of supplies, waste disposal, and safety measures).

Support the Quality Management System (QMS) initiatives and adhere to the QMS requirements, including the maintenance of a detailed and accurate laboratory notebook.

Occasional weekend work (Saturday and/or Sunday) may be required.
Qualifications
BSc in Molecular Biology, Cell Biology, Biochemistry, Immunology or related area.

Minimum 1 year of relevant experience performing independent laboratory experiments and research.

Mammalian cell culture experience, flow cytometry experience and/or knowledge of STEMCELL product workflows are desirable.

Ability to apply critical and analytical thinking, experienced with the statistical analysis of biological data sets.

Documented ability to independently design, conduct, analyze and troubleshoot experiments.

Detail-oriented and proficient at time management.

Excellent communication skills (verbal and written) both in one-on-one and in a group setting with the ability to present and deliver high level and technical summaries of scientific data.

Team oriented yet self-motivated and able to work independently.
STEMCELL Technologies Inc. is a privately-owned biotechnology company based in Vancouver that helps power leading-edge life science research around the world. Scientists performing stem cell, immunology, cancer, regenerative medicine and cellular therapy research are among those who rely on our cell culture media, cell separation products, instruments, ancillary reagents and contract assay services. We create novel, useful, standardized products of unfailing quality and deliver them to more than 70 countries via our many regional offices plus distribution centres in Vancouver, Seattle, Grenoble and Singapore.  Driven by our love of science and our passion for quality, we see ourselves simply as "Scientists Helping Scientists" – standing by our customers to provide outstanding products, technical support and training.  We have over 1000 science-oriented employees globally, including 250 PhDs/MScs, with most others holding a BSc or engineering degree.  STEMCELL is proud to be the largest Biotechnology employer in Canada.
This is an opportunity to work with highly motivated colleagues in a science-oriented, creative and dynamic environment. We offer a competitive salary, excellent benefits and significant career development opportunities.
To apply please select the apply button. You will then be directed to a login screen asking you to set up an account. You must set up an account in order to apply. 
Create an account by selecting the create account button.  You will then be asked for your email and to create a password. Your Password must be eight characters long, contain at least one special character, one capital letter, and a number.Once you have created your password you will be asked to upload your resume. Uploading your resume will provide the ability to auto-populate your application with information from your resume. If you prefer to manually complete all of the fields in the application you can do this by clicking next. You can upload your cover letter as an attachment in the attachments screen. Thank you for your interest in STEMCELL!
​​
Apply