Work at STEMCELL
Explore the exciting career paths at STEMCELL, which include competitive benefits and opportunities to achieve your full potential with growth-driven training and development.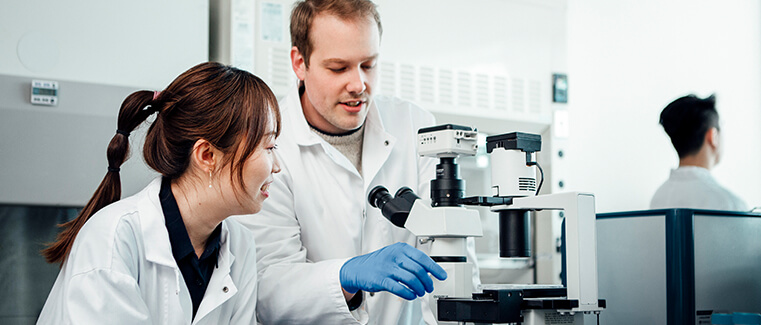 Operations Coordinator
Location
Vancouver, British Columbia
Job ID R0003669
Date posted 11/18/2021
Job Description Summary
Here are a few good reasons of why you're the best fit for an Operations Coordinator role within the Research & Development (R&D) Department: you have a positive "can-do" attitude, thrive on being challenged with a variety of responsibilities from administrative tasks to coordinating department-wide initiatives, excel working in a fast-paced environment, have top-notch organizational skills and impeccable attention to detail, and enjoy applying your scientific knowledge.
The Operations Coordinator plays an essential role in supporting the delivery of the goals, milestones and related operational activities to drive results forward for the department. This role will support implementation of the R&D Learning and Development program. This includes drafting the program framework, coordinating the communications plan, and outlining metrics to measure adoption and uptake. The R&D department trains lab-based employees on technical lab skills by providing 600+ hours of instructor-led training each year. You will be assisting with the development of new courses and conversion of R&D's instructor-led lab skills training modules to e-learning.
Job Description
Duties & Responsibilities:
Operational Programs & Initiatives  
Provide operational support for assigned projects and programs related to departmental objectives and goals, including tracking, reporting, and following up on timelines and deliverables.

Coordinate and administer the program's day-to-day activities including compliance, process implementation, and data management.

Work with direct manager to plan, collect input and prioritize agenda items for meetings including scheduling and recording of minutes; ensure that clear actions and decisions are documented, and communicated to relevant stakeholders.

Prepare, distribute and maintain documentation according to company standards and best practices. 

Support the design and development of departmental learning modules; develop infographics and job aids.

Support the coordination and administration of the R&D Learning and Development Program (e.g. Calendar management, gather data from surveys and evaluations, draft documentation and update training materials).

Integrate the Lab Skills Training Program into the Learning Management System.

Coordinate new employee onboarding activities.

Update and maintain R&D Operations data; serve as a custodian for data quality and reporting. 

Coordinate internal and external training activities by tracking incoming requests, nominations, course dates, and completion.

Provide project coordination for assigned projects as needed; apply standard project management tools and methodologies.

Perform other duties as required.
BSc degree or technical diploma in life sciences preferred. 

1-3 years of coordination and/or administrative experience in the life sciences or biotechnology industry preferred.

Ability to plan and coordinate operational activities of a program; must be able to assess competing priorities and meet operational deadlines.

Proven organizational and time management skills to manage multiple initiatives and tasks with a high degree of accuracy. 

Highly proficient with Microsoft Office and/or Google Productivity tools; practical experience of database management is an asset.    

Strong interpersonal skills to work collaboratively with others across functional teams.

Excellent communication skills (verbal, written and presentation) both in one-on-one and in group settings.

Team orientated – 'one-team' behavior is a must.
This role requires vaccination against COVID-19 as per the current recommendations by local health authorities, including any COVID-19 boosters as recommended by local health authorities and where available.
#united
STEMCELL Technologies Inc. is a privately-owned biotechnology company based in Vancouver that helps power leading-edge life science research around the world. Scientists performing stem cell, immunology, cancer, regenerative medicine and cellular therapy research are among those who rely on our cell culture media, cell separation products, instruments, ancillary reagents and contract assay services. We create novel, useful, standardized products of unfailing quality and deliver them to more than 70 countries via our many regional offices plus distribution centres in Vancouver, Seattle, Grenoble and Singapore.  Driven by our love of science and our passion for quality, we see ourselves simply as "Scientists Helping Scientists" – standing by our customers to provide outstanding products, technical support and training.  We have over 1000 science-oriented employees globally, including 250 PhDs/MScs, with most others holding a BSc or engineering degree.  STEMCELL is proud to be the largest Biotechnology employer in Canada.
This is an opportunity to work with highly motivated colleagues in a science-oriented, creative and dynamic environment. We offer a competitive salary, excellent benefits and significant career development opportunities.
To apply please select the apply button. You will then be directed to a login screen asking you to set up an account. You must set up an account in order to apply. 
Create an account by selecting the create account button.  You will then be asked for your email and to create a password. Your Password must be eight characters long, contain at least one special character, one capital letter, and a number.Once you have created your password you will be asked to upload your resume. Uploading your resume will provide the ability to auto-populate your application with information from your resume. If you prefer to manually complete all of the fields in the application you can do this by clicking next. You can upload your cover letter as an attachment in the attachments screen. Thank you for your interest in STEMCELL!
​​
Apply