Work at STEMCELL
Explore the exciting career paths at STEMCELL, which include competitive benefits and opportunities to achieve your full potential with growth-driven training and development.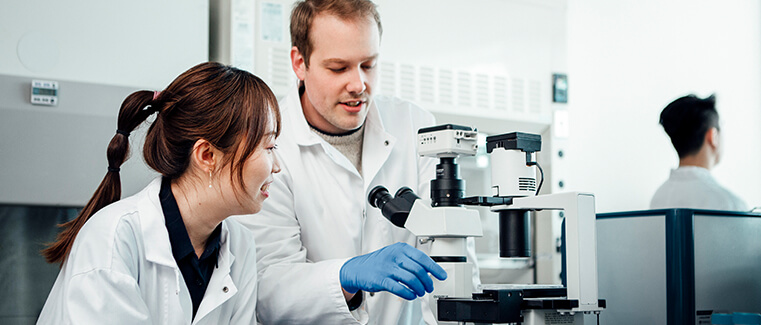 Mechanical Engineer
Location
Burnaby, British Columbia
Job ID R0003490
Date posted 10/19/2021
Job Description Summary
The Mechanical Engineer carries out the design and development of mechanical and electro-mechanical sub-systems of our laboratory automation systems from initial concept through detailed design to transfer to manufacturing, launch and maintenance through the product lifecycle. This position is integral in driving the technological innovation and continuous improvement of processes within the Instrumentation Business Unit at STEMCELL Technologies.
This is an exciting opportunity to deliver advanced laboratory automation instruments to STEMCELL's new and existing customers globally. You will be part of a dynamic product development team responsible for designing, expanding and continuously driving innovation of our lab instrumentation and consumable products. As Canada's largest biotechnology company, STEMCELL Technologies Inc. provides leading edge robotic, software and reagent solutions that drive our customers' research at the forefront of science. The role provides an opportunity to contribute to product design, innovation and solution provision for our customers, as well as to maintain our leadership presence in the life sciences industry.
Job Description
Duties and Responsibilities:
Responsible for the mechanical design, development and testing of new laboratory automation systems, sub-systems and consumables using 3D CAD: includes the selection of components (motors, sensors, actuators etc.) and the sourcing of parts and services with Procurement.

Carry out in-house prototype builds during which build and integration challenges are resolved, performance enhanced and areas for future improvement identified. Play a hands-on role during such prototype builds.

Analyze and solve complex problems using a systematic approach, execute risk assessments and make recommendations for risk mitigation.

Present and make recommendations at design reviews on areas that affect the product life cycle such as manufacturing, service, regulations, troubleshooting, upgrades and backwards compatibility, competing technology and obsolescence. 

Document design specifications, requirements and test results for design history records and technology transfer according to company and Quality Management System (QMS) standards including applicable regulatory compliance.

Contribute to annual departmental objectives and projects and to defining the work program and technical activities schedule for projects. Actively participate in brainstorming and review
sessions.

Provide feedback and mentorship to staff.
Qualifications:
A bachelor's degree in Mechanical Engineering in an appropriate field with 4+ years of relevant experience, or a Master's degree in Engineering with 3+ years of relevant experience.

Demonstrated knowledge of a range of mechanical prototyping, fabrication and finishing techniques for plastics, metals and non-metals. Proven practical skills in manual prototyping and/or CNC machining are a distinct asset.

Experience with diverse technologies and design approaches including standard industry best practices, 3D CAD and version control of software and hardware design.

Demonstrated skills in designing, building and testing electro-mechanical systems are an asset, including the construction of cabling.

Knowledge of automation system applications and specific knowledge of one or more of: i) Robotic and linear / rotary motion control systems, ii) Sensors, detectors and actuators, iii) Liquid handling systems, pumps and flow control, and iv) Molding and tool design for low and high volume parts.

Practical experience performing risk assessments and FMEAs.

Experience developing products from requirements analysis through prototyping to manufacture and support.

Experience designing for low to mid-level production volumes is an asset.

Excellent communication (oral, written, presenter) and interpersonal skills with the ability to
work effectively in a team and with cross-functional teams.

Team oriented yet self-motivated.

Highly organized with strong attention to detail and accuracy. 

Demonstrated project management and project planning experience or experience of working with contractors is an asset.

Experience in design and documentation procedures consistent with UL, CE, ISO 13485 and standards for development of systems for diagnostic and pre- / clinical applications is an asset.
This role requires vaccination against COVID-19 as per the current recommendations by local health authorities, including any COVID-19 boosters as recommended by local health authorities and where available.
#united
STEMCELL Technologies Inc. is a privately-owned biotechnology company based in Vancouver that helps power leading-edge life science research around the world. Scientists performing stem cell, immunology, cancer, regenerative medicine and cellular therapy research are among those who rely on our cell culture media, cell separation products, instruments, ancillary reagents and contract assay services. We create novel, useful, standardized products of unfailing quality and deliver them to more than 70 countries via our many regional offices plus distribution centres in Vancouver, Seattle, Grenoble and Singapore.  Driven by our love of science and our passion for quality, we see ourselves simply as "Scientists Helping Scientists" – standing by our customers to provide outstanding products, technical support and training.  We have over 1000 science-oriented employees globally, including 250 PhDs/MScs, with most others holding a BSc or engineering degree.  STEMCELL is proud to be the largest Biotechnology employer in Canada.
This is an opportunity to work with highly motivated colleagues in a science-oriented, creative and dynamic environment. We offer a competitive salary, excellent benefits and significant career development opportunities.
To apply please select the apply button. You will then be directed to a login screen asking you to set up an account. You must set up an account in order to apply. 
Create an account by selecting the create account button.  You will then be asked for your email and to create a password. Your Password must be eight characters long, contain at least one special character, one capital letter, and a number.Once you have created your password you will be asked to upload your resume. Uploading your resume will provide the ability to auto-populate your application with information from your resume. If you prefer to manually complete all of the fields in the application you can do this by clicking next. You can upload your cover letter as an attachment in the attachments screen. Thank you for your interest in STEMCELL!
​​
Apply