Careers for PhDs at STEMCELL
STEMCELL offers exciting and meaningful careers for graduates with advanced scientific training who wish to continue with a research-based career, or those who are looking to support science away from the lab bench, with opportunities for development in a diverse range of careers.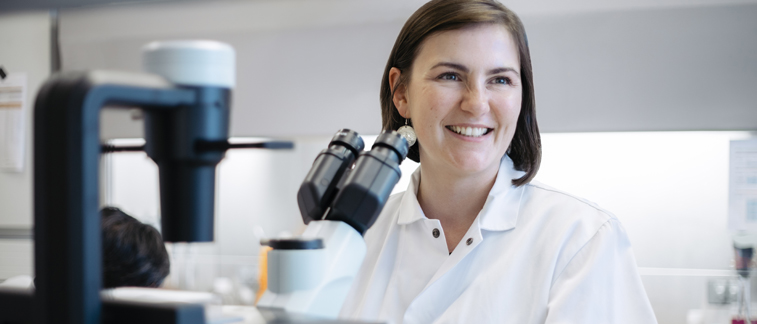 Product and Scientific Support Specialist
Location
Cambridge, England
Job ID R0001978
Date posted 08/08/2019
Job Description Summary
Product and Scientific Support located in Cambridge, United Kingdom. The successful candidate will be an individual with extensive laboratory experience who is also interested leveraging their specialized skills in a customer-facing role. The Product and Scientific Support Specialist's primary responsibility is to provide product and scientific support to new and existing customers, as well as Distributors and Sales staff. Scientific support includes communicating directly with customers, delivering technical training, troubleshooting product experiments, and developing scientific tools. This position is also responsible for managing complex issues and product complaints, and developing and applying high level technical skills and specialized knowledge on one or more product lines. S/he assures training and knowledge transfer within the team and to sales staff. This position is responsible for maintaining the highest standard of customer service in a fast-paced and stimulating environment.
Job Description
Duties and Responsibilities
Develop a good understanding of all products in the STEMCELL portfolio to readily assist customers with any technical/scientific requests.

Expand technical knowledge on specific product line(s) into a specialty.

Contribute to and maintain the STEMCELL Knowledge Database.

Deliver customer feedback to contribute to new product design.

Troubleshoot experimental design for product optimization and solutions.

Investigate any product complaints or special requests by working with relevant departments.

Document all communications and interactions with customers in the CRM database (SFDC).
File and track progress of complaints/issues as part of a product investigation.

Provide laboratory training to customers and sales staff as part of STEMCELL's Education Programs.

Develop Technical and Educational Tools for internal and customer use.
Qualifications
PhD or MSC plus some work experience in stem cell biology field.
Fluency in English is essential.
Fluency in other languages (french, german, spanish) is a strong asset.

Demonstrated passion for science and learning.

Broad scientific knowledge and significant hands-on laboratory experience.

Extensive experience with mammalian cell culture is required.

Flow cytometry and cell separation experience would be an asset.

Excellent communication, interpersonal and critical thinking skills.

Strong time management, multi-tasking and organizational skills.

Ability to manage regular interruptions.

Ability to work effectively both independently and as part of a dynamic team.

Ability to explain scientific and technical information to both experts and non-experts alike.

Demonstrated ability to meet short- and long-term project deadlines.

Experience working with collaborative software programs such as SharePoint and/or Confluence would be preferred.
#PhD
​
STEMCELL Technologies Inc. is a privately-owned biotechnology company based in Vancouver that helps power leading-edge life science research around the world. Scientists performing stem cell, immunology, cancer, regenerative medicine and cellular therapy research are among those who rely on our cell culture media, cell separation products, instruments, ancillary reagents and contract assay services. We create novel, useful, standardized products of unfailing quality and deliver them to more than 70 countries via our many regional offices plus distribution centres in Vancouver, Seattle, Grenoble and Singapore.  Driven by our love of science and our passion for quality, we see ourselves simply as "Scientists Helping Scientists" – standing by our customers to provide outstanding products, technical support and training.  We have over 1000 science-oriented employees globally, including 250 PhDs/MScs, with most others holding a BSc or engineering degree.  STEMCELL is proud to be the largest Biotechnology employer in Canada.
This is an opportunity to work with highly motivated colleagues in a science-oriented, creative and dynamic environment. We offer a competitive salary, excellent benefits and significant career development opportunities.
To apply please select the apply button. You will then be directed to a login screen asking you to set up an account. You must set up an account in order to apply. 
Create an account by selecting the create account button.  You will then be asked for your email and to create a password. Your Password must be eight characters long, contain at least one special character, one capital letter, and a number.Once you have created your password you will be asked to upload your resume. Uploading your resume will provide the ability to auto-populate your application with information from your resume. If you prefer to manually complete all of the fields in the application you can do this by clicking next. You can upload your cover letter as an attachment in the attachments screen. Thank you for your interest in STEMCELL!
​​
Apply