Work at STEMCELL
Explore the exciting career paths at STEMCELL, which include competitive benefits and opportunities to achieve your full potential with growth-driven training and development.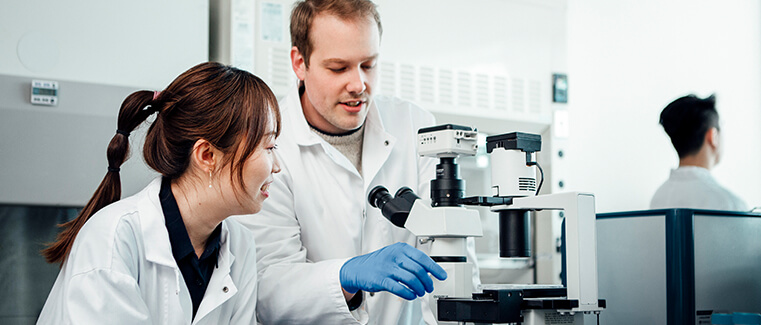 Electro-Mechanical Manufacturing Technologist
Location
Burnaby, British Columbia
Job ID R0003766
Date posted 01/12/2022
Job Description Summary
The Electro-Mechanical Manufacturing Technologist is responsible for the manufacturing, assembly, testing and troubleshooting of medical research lab instruments. This is a hands-on role involved in the manufacture of advanced lab automation instruments for STEMCELL's customers globally and requires an individual who has a high mechanical and electrical aptitude with experience in a production environment.
Job Description
Duties & Responsibilities
Independently perform instrument module electrical and mechanical assembly; verify the product quality and performance.   

Diagnose and resolve all common assembly and system performance issues.

Perform refurbishment activities for instruments and prepare for resale. 

Adhere to the established manufacturing schedule by effective planning and time management.  

Accountable for inventory control of raw materials, sub-assemblies and finished goods (incoming inspections, regular  cycle count, inventory transactions and adjustments in ERP system).

Provide guidance to the design team on requirements for manufacturability. 

Maintain device manufacturing, assembly and testing records. 

Draft and update assembly instruction documents and Standard Operating Procedures (SOPs).

Represent the Manufacturing Team during Quality and TÜV audits. 

Ensure compliance of written procedures consistent with ISO 13485 for component incoming inspection, part picking, instrument assembly, and product release testing.

Responsible for training and mentoring of staff as required.
Qualifications
A bachelor's degree or technical diploma with 5-8 years of relevant experience.

Familiarity with robotics, vision systems, liquid handling, automation and software systems with strong diagnostic and problem solving skills. Specialization or on-the-job experience required. 

Experience working with SAP would be a distinct advantage.

Good understanding of lean manufacturing principles (5S, kanban inventory systems).

Demonstrated ability in manufacturing mechanical, electrical, and optical systems.

3+ years of industrial experience in ISO certified companies. 

2+ years of high precision mechanical assembly.

Team oriented yet self-motivated and mature enough to work independently. 

Medical device manufacturing in a regulated environment is a distinct asset.

Experience in design and written procedures consistent with TÜV and ISO 13485 is an asset.

Excellent communication skills (verbal, written and presentation) both in one-on-one and in group settings.

Attention to detail combined with the ability to execute at a high level with significant independence. 

Highly flexible, good tolerance for ambiguity and able to quickly adapt to changing priorities.

Team orientated – 'one-team' attitude is a must.

Confident, results-oriented.
This role requires being fully vaccinated against COVID-19 as per STEMCELL's vaccination policy, the current recommendations by local health authorities and as required by public health orders in place from time to time, including any COVID-19 boosters as recommended by local health authorities and as required by public health orders in place from time to time.
#United
STEMCELL Technologies Inc. is a privately-owned biotechnology company based in Vancouver that helps power leading-edge life science research around the world. Scientists performing stem cell, immunology, cancer, regenerative medicine and cellular therapy research are among those who rely on our cell culture media, cell separation products, instruments, ancillary reagents and contract assay services. We create novel, useful, standardized products of unfailing quality and deliver them to more than 70 countries via our many regional offices plus distribution centres in Vancouver, Seattle, Grenoble and Singapore.  Driven by our love of science and our passion for quality, we see ourselves simply as "Scientists Helping Scientists" – standing by our customers to provide outstanding products, technical support and training.  We have over 1000 science-oriented employees globally, including 250 PhDs/MScs, with most others holding a BSc or engineering degree.  STEMCELL is proud to be the largest Biotechnology employer in Canada.
This is an opportunity to work with highly motivated colleagues in a science-oriented, creative and dynamic environment. We offer a competitive salary, excellent benefits and significant career development opportunities.
To apply please select the apply button. You will then be directed to a login screen asking you to set up an account. You must set up an account in order to apply. 
Create an account by selecting the create account button.  You will then be asked for your email and to create a password. Your Password must be eight characters long, contain at least one special character, one capital letter, and a number.Once you have created your password you will be asked to upload your resume. Uploading your resume will provide the ability to auto-populate your application with information from your resume. If you prefer to manually complete all of the fields in the application you can do this by clicking next. You can upload your cover letter as an attachment in the attachments screen. Thank you for your interest in STEMCELL!
​​
Apply